If I consider myself a gallerist I would always look for a commercially interesting piece, however, as I curator I really appreciate photographic work, as it narrates and documents stories, not always with a commercial end but definitely historical.
You are the founder of some projects about contemporary African art, promoting artists and visual cultures from Africa to a widespread community all over the world. How and when your passion for Africa starts?
Lidija Khachatourian (LK): In 2008, I moved to Dubai (UAE) with my family. Once the children were big enough, we started exploring Sub-Saharan Africa intrigued by the cultural diversity. I was immediately captivated by the beauty and by its inhabitants. Moved by the desire to explore beyond the tourist art routes, I started engaging directly with artists. and building our family art collection. Over time, my passion for contemporary African art grew enough to make it my work.
AKKA Project is an important gallery you founded to promote artists from Africa. Can you explain to us when it started and how it is organised?
LK: When I began to travel systematically across Africa looking for young talents I felt the desire to share the beauty with a wider public and an international circle of collectors. I opened my first gallery in Dubai, where I was based, in 2016, after a few years of organizing pop-up exhibitions around the city. A few years later, seeing the collectors' engagement and interest for young and established artists I decided to create a liaison with Europe, opening the second gallery in Venice in 2019. During that year, on the occasion of the Venice Biennale of Art, I curated the National Pavilion of Mozambique. The gallery program is proposing all-year-around exhibitions featuring artists based in Africa, where the spring-summer program is stronger in Venice and while the autumn-winter program in Dubai. We are trying to balance the artistic offer between the established and young talents so that our public can have a wider choice.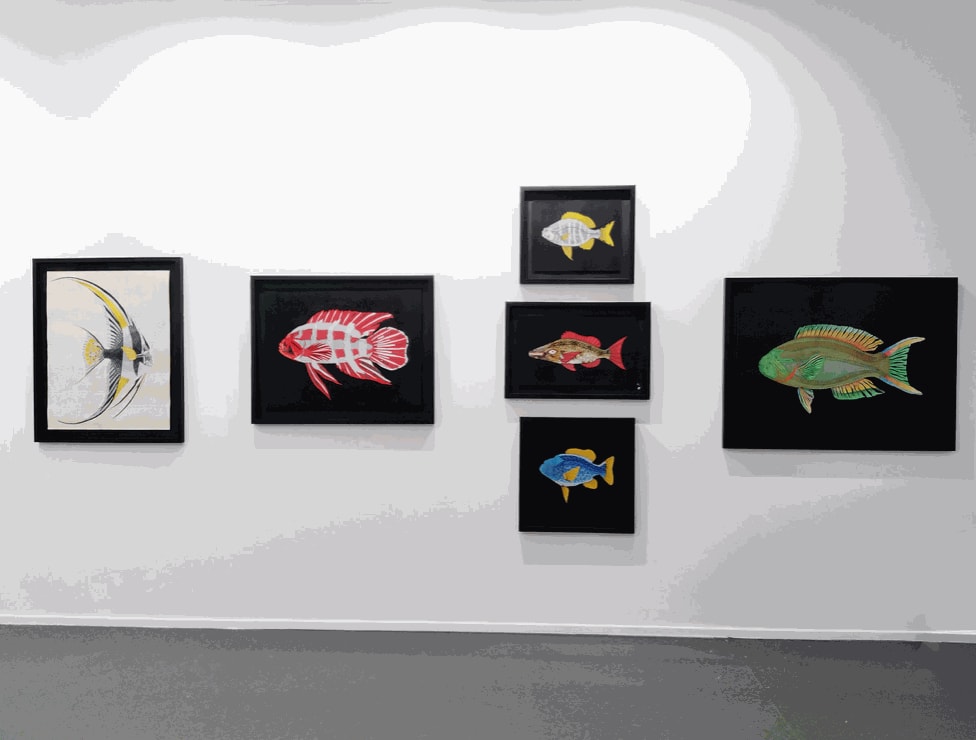 © Installation shot, Art Dubai 2021, Filipe Branquinho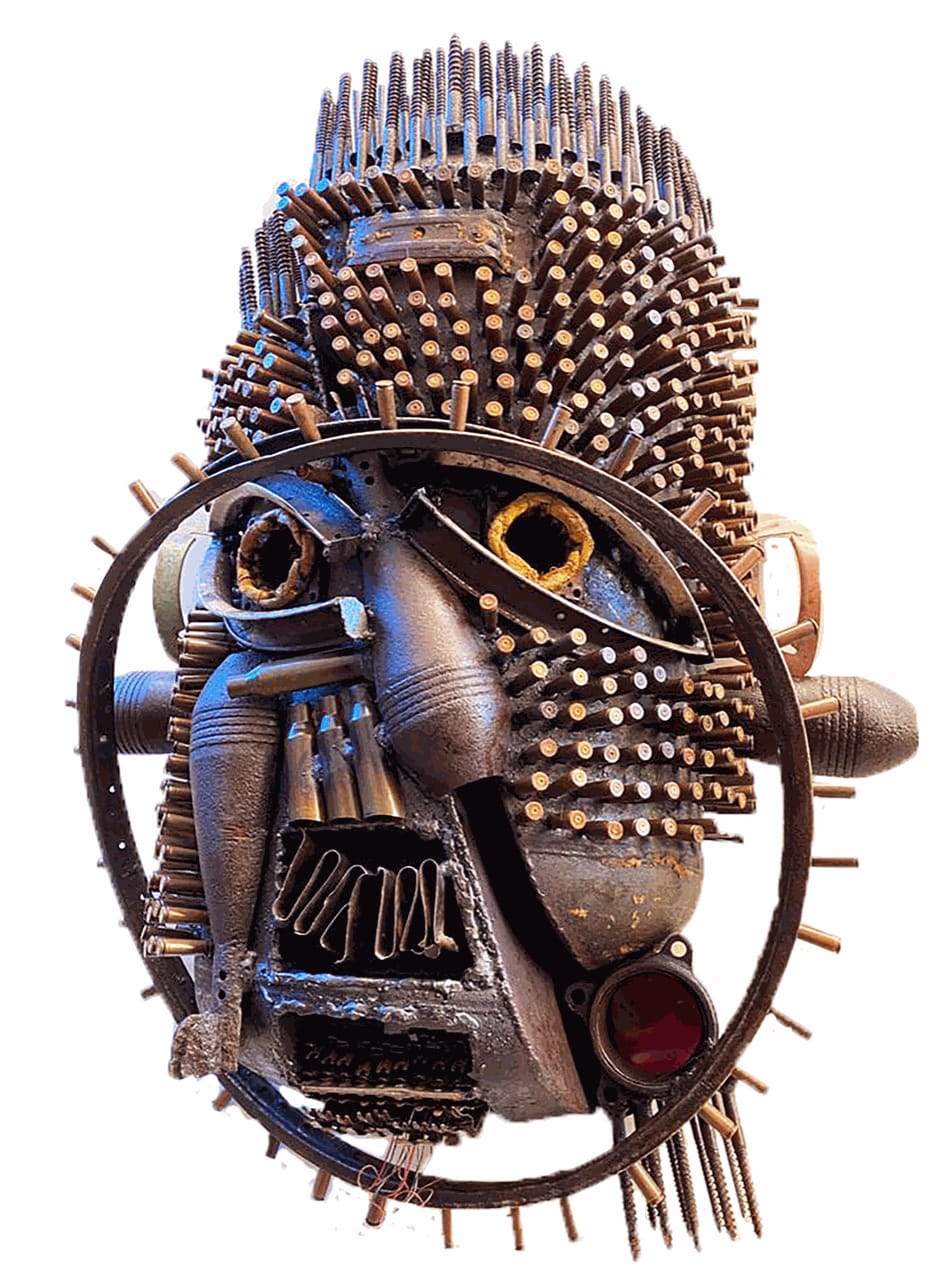 © Goncalo Mabunda, O Rializante da mente, 2021, decommissioned weapons and scrap metal, cm 100 x 72 x 18
What is your formal education?
LK: I'm a chartered accountant, I've been working in the sector for many years, until 2014 when I felt captivated by the artistic world's charm.
What are the major obstacles you find in showing African art to the rest of the world? What is the reaction of the public?
LK: When talking about African Art we are considering the arts created on the African Continent. Each state, each artist, each piece we represent are very diverse as it is the Continent itself. One of the first obstacles I've met is the preconception that Africa is a county and that its art is tribal and primitive. I have spent the first 2-3 years curating exhibitions with a focus on a single state in order to present the beauty and uniqueness of each country. I'm trying hard to place the artists in the first place and not their origin; which of course is important, but not essential to determine whether they are great artists or not.
Having started in 2016, today I find myself in the full take-over-on-everything-that-is-of-color. I feel very privileged to be one of the gallerists promoting artists from Africa and showing its vibrant and rhythmic artistic energy.
What do you think about the future of African contemporary photography? Are there any main themes you find in photographers' projects?
LK: Considering that sourcing art material can be very challenging for many artists in Africa, working with a camera makes it perhaps a bit easier. I find lots of artists using a photographic approach as a way of expressing their personal and social issues and their inner investigations. Currently, there are many festivals and biennales across Africa showcasing and promoting photography: LagosPhotoFestival, AddisfotoFest, Bamako Encounters Photography Biennial (Mali), CAP price for photography to mention a few.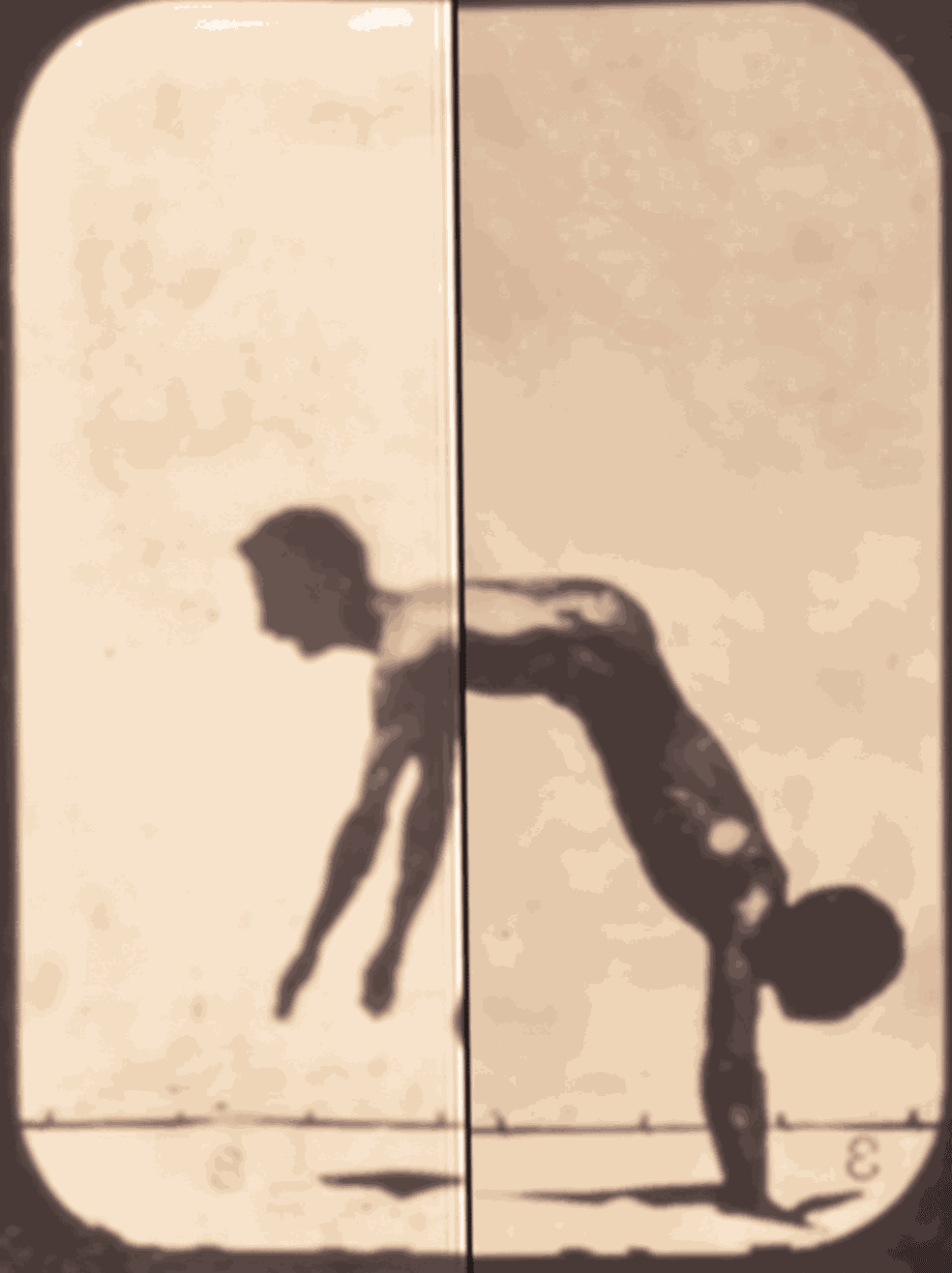 © Neville Starling, Bleeding Edge 2, 2021, photograph, credits AKKA Project

What is your modus operandi? How do you find artists from the continent?
LK: For me, scouting artists is the best part of running the gallery. It involves a lot of traveling. Pointless to say that since the pandemic started I have not been visiting any of my artists, which I miss enormously. The research is, for now, on zoom or other online platforms. I do plan on spending few months in the near future somewhere in Africa, to immerse myself completely and learn even more about the culture and spend as much time as possible with the artists.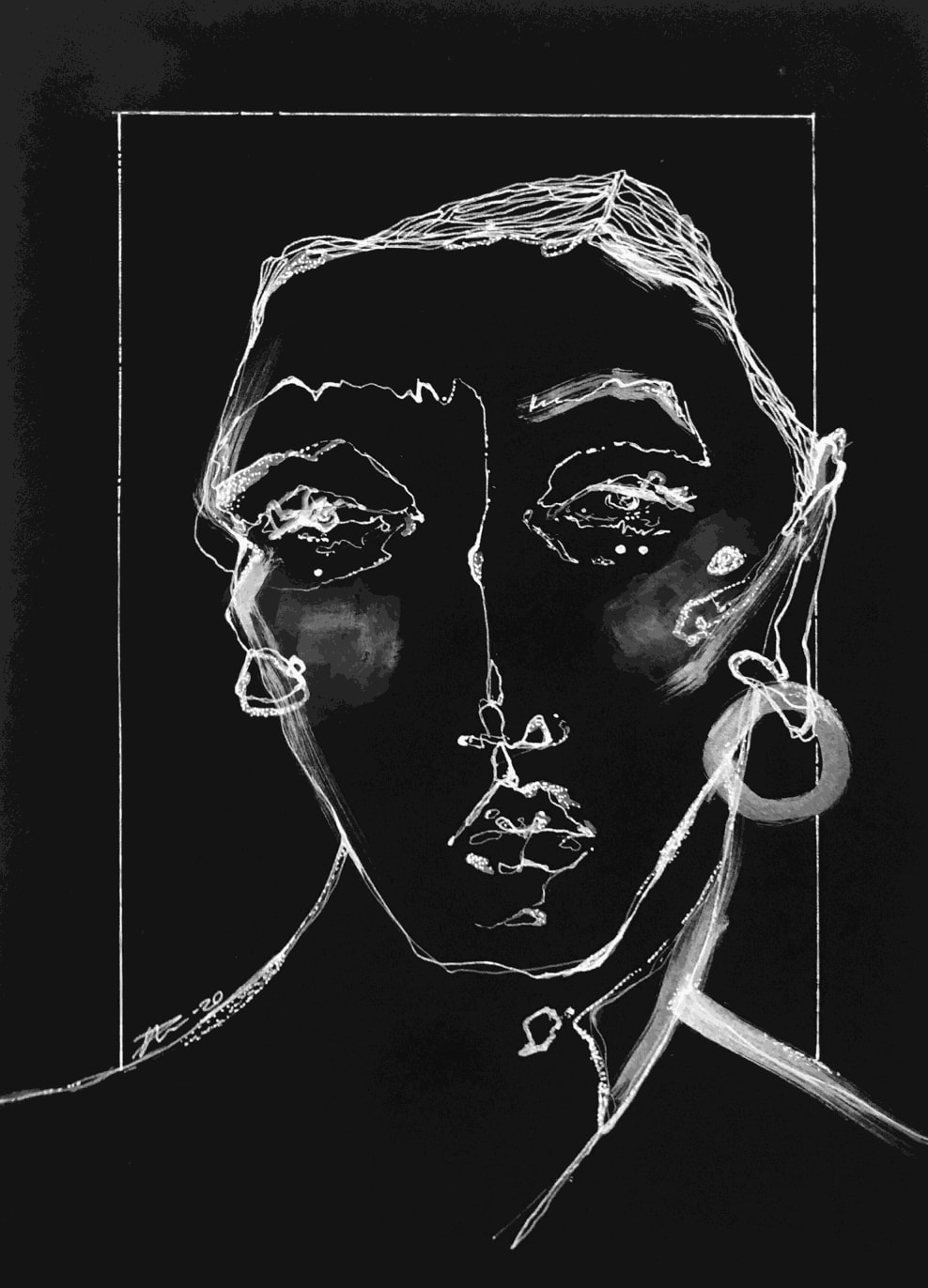 © Patti Endo, The Withering Self, 2020, Medium- White ink on paper, cm 19.5 x 27
© Lizette, Mother and child bond 2, Mixed media on Canvas, cm 180 x 117

You are the founder of the "Art and About Africa" platform. Can you explain to us what it is?
LK: ArtandAboutAfrica is a platform, that was conceived as an interactive map, we are collecting and listing all spaces, artists' studios, and art institutions on the African continent. It is quite unique and a much interesting connecting tool, so precious for the art ecosystem. The fact that the platform maps and makes the link with artists' studios directly is a very strong element. In addition, Art And About Africa is a tool to identify and learn about the art scene, allowing the user to build a personal preferred list for future reference. My vision is to provide a tool, that connects the players of the African Art Industry with anyone interested to know more. In the future, I'd like to develop cultural travels across the continent, starting from the cities I know best, all of this as soon as the pandemic will allow.
You have been the curator of the Mozambique Pavillion on the last Biennale in Venice. Could tell us a bit more about this experience?
LK: Having been given the opportunity to curate a National Pavilion of Mozambique was an immense privilege for me.
I was already working on the curatorial project, and the artists were producing the works to be presented in Venice during the Biennale as a collateral exhibition. Soon after the Ministry of Culture came to know about the initiative, with some help from the artists themself, we received officially the engagement letter from the Minister of Culture. The overall experience was enlightening and intense. The artists and everybody that was involved with the realization of the pavilion were extremely happy about the result. We received good feedback from the press and from all the visitors.

You have recently curated the exhibition "I exist!" which opened last July in Venice. Could you tell us something about the title and the main themes of the exposition?
LK: "I exist!"'s exhibition was conceived to showcase two emerging artists: Margaret Ngigi from Kenya and Lebo Thoka from South Africa. Both very young, however, due to their surroundings have been exposed to a number of issues and specifically female conditions. Margaret in her artistic practice is analizing the condition of many women in Kenya which in order to be fully accepted by society have to be married, if not a wife, the woman is not considered "complete". On the other hand Lebo, a convinced feminist, through her work wants to elevate e give pride to women who perished by the hand of a man, being them their husbands, boyfriends, or employers.
The title wants to be a mantra or affirmative imperative, I EXIST! No matter what.
You chose two young African photographers: Lebo Thoka and Margaret Ngigi. Why did you choose them and what do you like in their photographic approach?
LK: I have been working with Margaret for some time. She is a passionate emerging photographer, filmmaker, and film producer. Only recently graduated from United States International University-Africa. While Lebo was introduced to me by David Krut, a project space in Johannesburg. I was deeply moved by Lebo's body of work when David suggested exhibiting her work in Venice, I didn't think twice! Matching the two artists came spontaneously. Even if working differently both Margaret and Lebo are questioning and analyzing a very important matter: women, and their emancipation.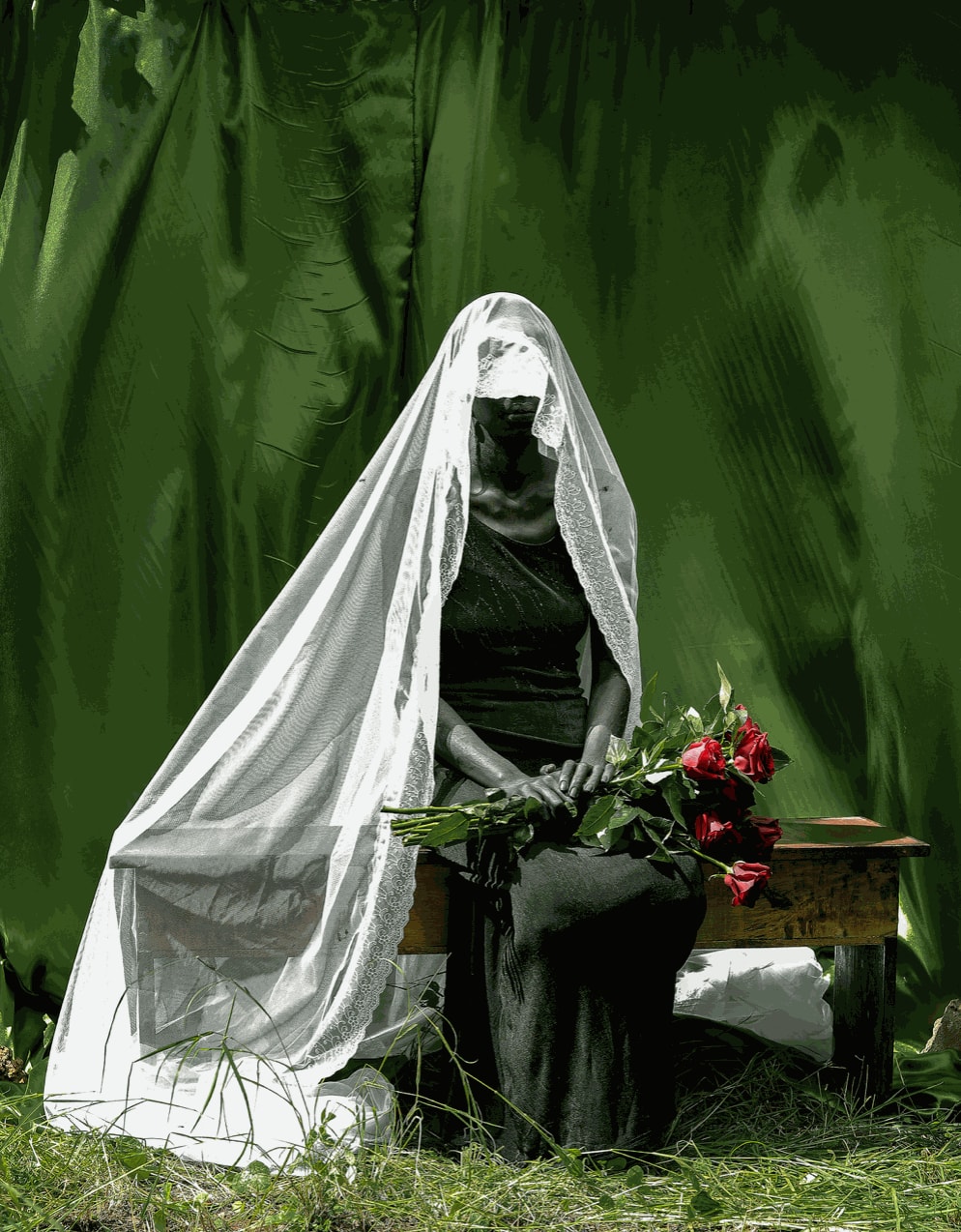 © Margaret Ngigi. Bride Avenue IV, courtesy AKKA Project

What is the potential of photography in art, for you?
LK: I appreciate all kinds of artistic expressions. Depending on the photographers' style, photos can really capture the moment, and this is the magic behind this medium. Being a tool that doesn't require big spaces or investments (apart from the camera) it is easily practicable almost everywhere. If I consider myself a gallerist I would always look for a commercially interesting piece, however, as I curator I really appreciate photographic work, as it narrates and documents stories, not always with a commercial end but definitely historical.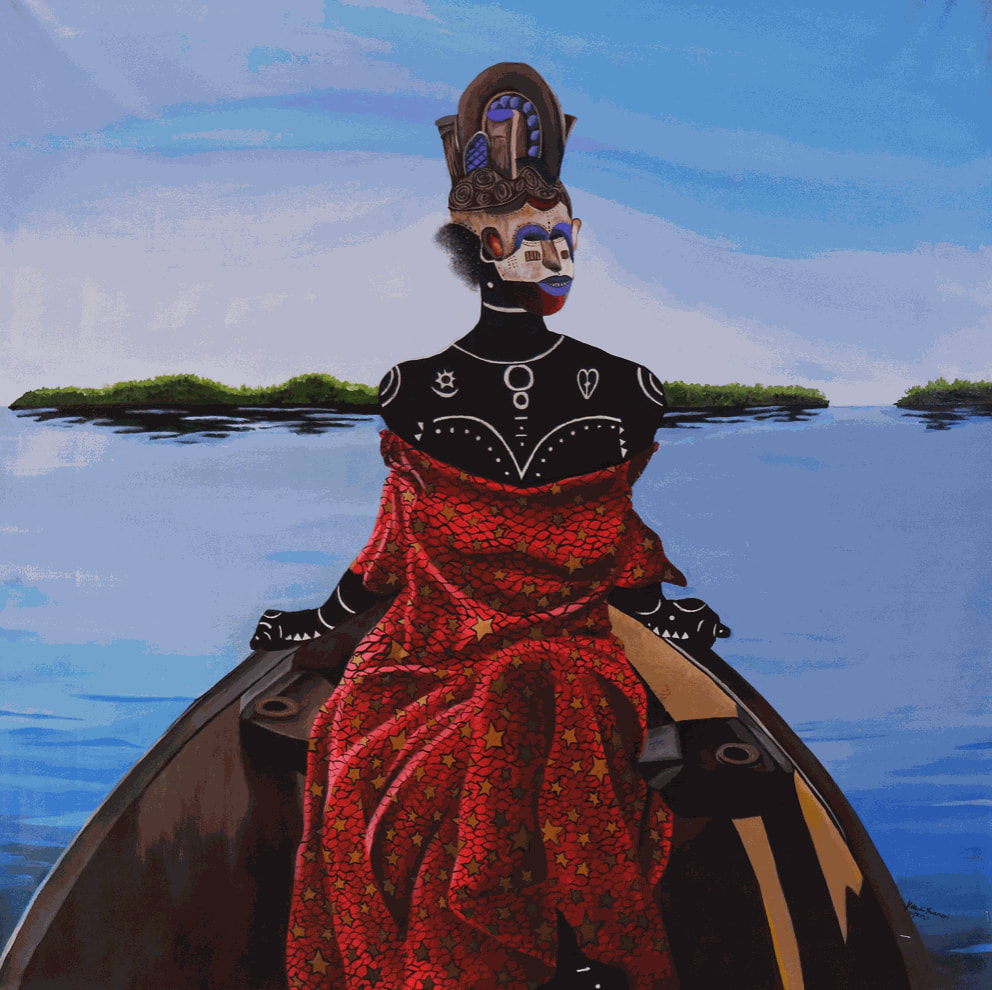 © Kelechi Nwaneri, Tourist at the Lagoon, 2021, Charcoal Sticks and Acrylic Paints on Canvas, cm 120 x 120

What is the future of AKKA Project? Are there any anticipations we can give?
LK: I see a very bright future for AKKA Project :) Our program is intensifying as we move forward. In the near future will host Cyrus Kabiru for our yearly residency program in Venice; while on October 2nd, will be part of ArtNight promoted by the Ca' Foscari University of Venice where will present a special photographic project that Margaret has work on commissioned by the university. While on October 21st will open a solo show by Kelechi Nwaneri. Kelechi was the artist in residency in 2020, and the show will include works inspired by this unique experience.
AKKA Project is also participating at PhotoBasel, an art fair dedicated to photography. As every year PhotoBasel happens during ArtBasel days in Basel. Our selected artists for this edition are: Filipe Branquinho, Margaret Ngigi, Moira Forjaz and Mauro Pinto.